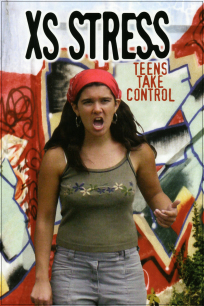 Checking for rights for your region
We are currently verifying whether this film is available for download in your region.
This may take a few minutes.
We're sorry.
From your IP address, we can tell you're in .
Unfortunately, this film is not available for download in your region.
We're sorry.
The service is temporarily unavailable. Please come back later.
Home and Classroom use 1
Institutional licence 2
Synopsis
In this short film, three youths draw on their own experiences to provide an essential guide to staying afloat while navigating the choppy waters of adolescence. It's a time when youth undergo big changes and assume new responsibilities, juggling school, family and friends. Throw in work, dating, exams, racist remarks and extracurricular activities, and it's no wonder teens get knocked off balance. Spoken word performer Kyra Shaughnessy and a diverse chorus of young voices provide running commentary, making XS Stress an insightful report from the teens of today.
Terms of use
1 You may download this film for private, personal, library or classroom use only. Public screenings and institutional (non-educational institutions) use are not permitted. Download films in the language of your choice, in standard or high definition. (Please note that bonus material, chapters, closed captioning and subtitles are not features of DTO films.) You can copy each file up to five times, onto various devices. DTO films cannot be hosted on a streaming server, to add DTO films to an institutional or educational streaming server, simply contact a sales agent to discuss pricing.
2 Institutional prices include the rights to screen this film in institutional settings and in free public screenings.