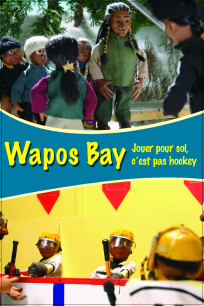 Checking for rights for your region
We are currently verifying whether this film is available for download in your region.
This may take a few minutes.
We're sorry.
From your IP address, we can tell you're in .
Unfortunately, this film is not available for download in your region.
We're sorry.
The service is temporarily unavailable. Please come back later.
Home and Classroom use 1
Institutional licence 2
Synopsis
Dans ce premier épisode de la série Wapos Bay, Talon et son cousin T-Bear jouent dans la même équipe de hockey, mais leur relation est mise à l'épreuve lorsqu'ils essaient tous les deux d'attirer l'attention de Melanie, une fille de l'équipe adverse. Pendant ce temps, Raven se fait donner une leçon par sa grand-mère, Kokhum, alors qu'elles participent à une compétition de bannique.

La série Wapos Bay suit les aventures de trois jeunes enfants d'une communauté crie du nord de la Saskatchewan. La série a remporté un prix Gemini en 2010.
Terms of use
1 You may download this film for private, personal, library or classroom use only. Public screenings and institutional (non-educational institutions) use are not permitted. Download films in the language of your choice, in standard or high definition. (Please note that bonus material, chapters, closed captioning and subtitles are not features of DTO films.) You can copy each file up to five times, onto various devices. DTO films cannot be hosted on a streaming server, to add DTO films to an institutional or educational streaming server, simply contact a sales agent to discuss pricing.
2 Institutional prices include the rights to screen this film in institutional settings and in free public screenings.