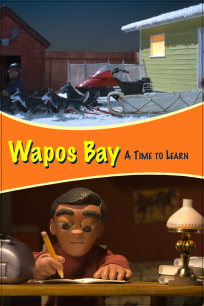 Checking for rights for your region
We are currently verifying whether this film is available for download in your region.
This may take a few minutes.
We're sorry.
From your IP address, we can tell you're in .
Unfortunately, this film is not available for download in your region.
We're sorry.
The service is temporarily unavailable. Please come back later.
Home and Classroom use 1
Institutional licence 2
Synopsis
In episode 5 from the Wapos Bay series, missing sled dogs and a pile of homework are just a few of the things Talon has to deal with before setting out for the trapline with his father, Alphonse. Talon can't wait to go away for a week but the exciting trip means lots of extra responsibility. He has to complete the schoolwork he'll miss before leaving. While Talon struggles with a creative writing assignment, T-Bear and his grandfather Mushom have trouble with the dog team. T-Bear incorrectly ties the dogs up and they escape. In this episode, intense preparations and avoidable mishaps teach the children the importance of listening to elders and taking care with everything you do.

Wapos Bay is a Gemini Award-winning stop-motion animation series that follows the adventures of 3 kids from a Cree community in northern Saskatchewan.
Terms of use
1 You may download this film for private, personal, library or classroom use only. Public screenings and institutional (non-educational institutions) use are not permitted. Download films in the language of your choice, in standard or high definition. (Please note that bonus material, chapters, closed captioning and subtitles are not features of DTO films.) You can copy each file up to five times, onto various devices. DTO films cannot be hosted on a streaming server, to add DTO films to an institutional or educational streaming server, simply contact a sales agent to discuss pricing.
2 Institutional prices include the rights to screen this film in institutional settings and in free public screenings.