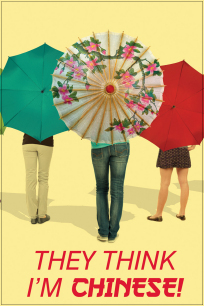 Checking for rights for your region
We are currently verifying whether this film is available for download in your region.
This may take a few minutes.
We're sorry.
From your IP address, we can tell you're in .
Unfortunately, this film is not available for download in your region.
We're sorry.
The service is temporarily unavailable. Please come back later.
Home and Classroom use 1
Institutional licence 2
Synopsis
Thousands of girls who were in the first wave of Chinese children to be adopted in Québec in the 1990s have reached adolescence. The filmmaker focused her lens on five of them and accompanied them throughout their emotionally charged transition to adulthood. In their quest for identity, how do these young Quebecers experience their difference? An intimate and touching journey into the world of Alice, Lea, Julia, Anne and Flavie.


Terms of use
1 You may download this film for private, personal, library or classroom use only. Public screenings and institutional (non-educational institutions) use are not permitted. Download films in the language of your choice, in standard or high definition. (Please note that bonus material, chapters, closed captioning and subtitles are not features of DTO films.) You can copy each file up to five times, onto various devices. DTO films cannot be hosted on a streaming server, to add DTO films to an institutional or educational streaming server, simply contact a sales agent to discuss pricing.
2 Institutional prices include the rights to screen this film in institutional settings and in free public screenings.