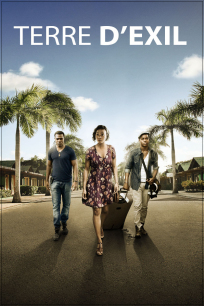 Checking for rights for your region
We are currently verifying whether this film is available for download in your region.
This may take a few minutes.
We're sorry.
From your IP address, we can tell you're in .
Unfortunately, this film is not available for download in your region.
We're sorry.
The service is temporarily unavailable. Please come back later.
Home and Classroom use 1
Institutional licence 2
Synopsis
Fiction percutante du réalisateur primé Sudz Sutherland, Terre d'exil raconte l'histoire de trois jeunes qui sont déportés en Jamaïque, leur pays natal. Une fois arrivés à Kingston, loin de la famille et des amis, sans point d'ancrage, ils réalisent que chaque jour est un combat pour la survie. Commence alors un cheminement qui les forcera à repousser les limites de leur endurance et à découvrir leur vraie nature. Terre d'exil (sélection officielle au Festival international du film de Toronto 2013) est une fiction qui pose la question cruciale : « Comment survivre? »
Terms of use
1 You may download this film for private, personal, library or classroom use only. Public screenings and institutional (non-educational institutions) use are not permitted. Download films in the language of your choice, in standard or high definition. (Please note that bonus material, chapters, closed captioning and subtitles are not features of DTO films.) You can copy each file up to five times, onto various devices. DTO films cannot be hosted on a streaming server, to add DTO films to an institutional or educational streaming server, simply contact a sales agent to discuss pricing.
2 Institutional prices include the rights to screen this film in institutional settings and in free public screenings.