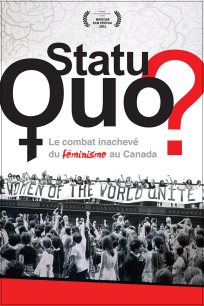 Checking for rights for your region
We are currently verifying whether this film is available for rental in your region.
This may take a few minutes.
We're sorry.
From your IP address, we can tell you're in .
Unfortunately, this film is not available for rental in your region.
We're sorry.
The service is temporarily unavailable. Please come back later.
After purchasing a rental, you will have 48 hours to watch the film.
Synopsis
Le féminisme a façonné notre société. Mais jusqu'où nous a-t-il conduits et quelle en est la pertinence aujourd'hui? Status Quo? examine des enjeux majeurs tels la violence faite aux femmes, l'accès à l'avortement, les services de garde universels, et s'interroge sur les progrès réalisés quant à ces questions. Il propose des réponses provocantes et parfois choquantes. Mine de documents d'archives dynamiques et de saisissantes histoires contemporaines, Status Quo? est un film essentiel pour tous les Canadiens et Canadiennes.
Terms of use
1 You may view this film for private, personal, library or classroom use only. Public screenings and institutional (non-educational institutions) use are not permitted.
2 Institutional prices include the rights to screen this film in institutional settings and in free public screenings.